Pinterest and Instagram, two image-sharing platforms that debuted in 2010, have seized the American market by storm. Their unique features and capabilities open up exciting new marketing options, which have aided in their continued growth. Companies can use the two sites to display their brands or products through eye-catching images and gain access to prominent followers, making them appealing alternatives to Facebook and Twitter.
In this article, I am going to go through all the differences between Instagram and Pinterest. I am also going to be talking about which platform is the best for your business.
Pinterest Vs Instagram
The similarities between Pinterest and Instagram
Before talking about the differences, we should take a look at the similarities first.
Pinterest and Instagram are photos and image-sharing social networking platforms where you may share your creations with others. The key distinction is that people use them in different ways. Instagram is used mainly for sharing your personal photos, while Pinterest on the other hand, is about organizing any form of visual content that you find on the internet.
Secondly, Pinterest and Instagram both have a large number of influencers (people with a large network and a good reputation), such as celebrities, athletes, and bloggers, whose opinions can have a significant impact on other users. When these influencers write about items, brands, and services and upload photographs of them, it has a huge impact on their popularity.
The differences between Pinterest and Instagram:
However, despite the initial similarities, there are a number of notable differences between the two platforms
I am going to start this off by talking about the main differences between Pinterest and Instagram:
1.Usage of both Platforms:
When using Instagram, users can take images and videos with their cell phones, add filters and a message, and then publish the image on a variety of social networking channels. Instagram users want a closer relationship with the brands they follow and interact with on the platform. Instagram postings should provide your fans a genuine glimpse into your business.
A user's aim on Pinterest is usually focused on the discovery and curation of other users' content. Consumers can use Pinterest to look for specific material, goods, tips, or inspiration, much like they can with search engines. They can then pin and group the stuff they find to create visually appealing boards.
2. Target Audience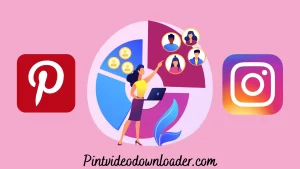 On Instagram, men and women are more evenly represented than on Pinterest. Instagram users come from more than 50 nations, indicating a more global demographic. Two-thirds of viewers are between the ages of 18 and 34, making this network more popular with both younger and older generations.
While the majority of Pinterest users are women. Pinterest users are roughly five times as likely than males to use the virtual scrapbooking tool, the highest gender discrepancy of any social network. Pinterest users are also becoming older, however the core demographic of 18-34-year-olds, who account for 56% of all users, remains the same.
3. Storytelling
This can be accomplished on Pinterest through the strategic use of themed download-able boards. This is a fantastic way to build a loyal following. Visual storytelling generates even more interest. When combined with your storytelling, using promotions and contests on Pinterest can be very effective.
Instagram users want a personal connection with a brand that is engaging, informative, and accessible via short messages, photos, and videos. Instagram photos can provide a creative connection between your company and you, as well as unique ways to communicate about products and services that your customers care about.
4. Mobile phone versus Computer
Pinterest is fully functioning on both desktop and mobile; however, I prefer to use it on my mobile phone because mobile users have access to more fantastic features (such as Buy-able Pins and the "show me more like this" option). Pinterest benefits from the fact that e-commerce conversion rates on desktop are substantially higher than on mobile.
In contrast, Instagram is essentially a smartphone app. You can view material and comment on other users' postings on a desktop, but you cannot create your own posts on desktop. The desktop version contains no adverts, and you cannot see or upload Instagram Stories. Instagram is progressively integrating Shopify in-app purchasing, which has the potential to greatly increase the platform's sales. Instagram on desktop is just inconvenient to use, not only does it not have most of the features that Instagram is famous for, it is extremely slow and unresponsive, though, credit where due, Instagram is working on improving their desktop page.
5. Hashtags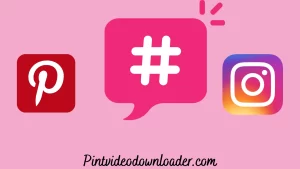 Instagrammers rely heavily on hashtags. Users enjoy reading and creating fresh, inventive hashtags, even if they never existed before. Hashtags can also be used to help you connect with your target audience. Local audiences can begin to promote their work by using hashtags such as #NewYork or #art
While many users utilize hashtags on Pinterest, they serve little use. You don't need hashtags to reach your target audience because pins are already appropriately labelled to boost their accuracy in search results. There are existing categories you can filter through. All hashtags do is add stuff that users may not want to read.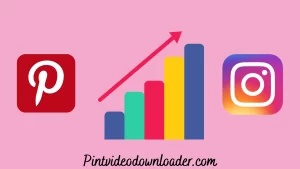 In reality, both platforms have begun to grow successfully into ecommerce-friendly systems intended with the business owner in mind.
Instagram, on the other hand, is the greatest social platform to use if you're an ecommerce store looking to maximise your marketing efforts.
Some of Instagram's most astonishing statistics are as follows:
Instagram has one billion active users every day.
72 percent of Instagram users have purchased a product after seeing it on the platform, and 80 percent follow at least one company.
Instagram may launch a standalone shopping app called IG Shopping, which will include even more shoppable features.
As Instagram adds more ways for ecommerce firms to sell to their followers in a way that is native and fully integrated into the app, the potential for sales via Instagram will only grow.
So, I think, if we talk about Business specifically then Instagram wins in the battle of Pinterest Vs Instagram.
Final Words
The greatest distinction between the two platforms is unquestionably in terms of content. Followers on Instagram expect to see visual content about you, your events, your business personality, and your "human" side. Pinterest users are looking for content in many forms to be inspired, learn, and share. Not only is the audience's motivation varied, but so is the type of content. Pinterest is a good fit if you primarily create helpful material on your site and curate useful information from others. That type of content will need to be changed before it can be shared on Instagram, which is a lot of work. So, there is no Pinterest Vs Instagram, if you really wanna grow, use both of these to flourish.